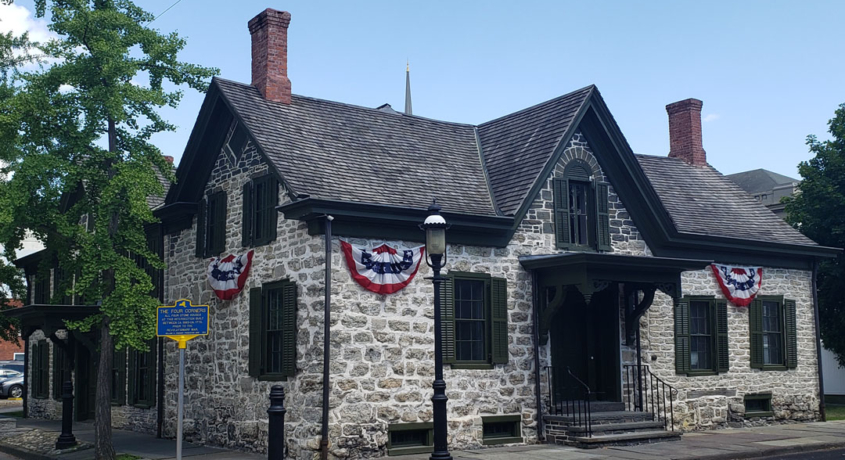 Date/Time
Date(s) - Fri, Sep 2, 2022
10:00 am-4:00 pm
Location
MATTHEWIS PERSEN HOUSE MUSEUM
Gysbert's Inventory: A Reflection of 1665 Dutch Life
The legacy of the Dutch settlers of Wiltwyck lives on at the Matthewis Persen House.  The house was originally owned by Gysbert Van Imbroch, a barber-surgeon. An inventory listing Gysbert's possessions at the time of his death in 1665 is brought to life through illustrations of clothing, kitchen items, medical supplies, books and other articles used in 17th century daily life. Step back in time with Gysbert's Inventory. This exhibit was made possible through a grant awarded to the Ulster County Clerk's Office from the New York State Archives.
History At Your Fingertips
Enjoy a new experience at the Persen House in 2022!  Visitors can see and touch high-quality reproductions of items found in Gysbert Van Imbroch's 1665 inventory.  What does a powder horn actually look like?  What is a cravat and how is it used?  Answer these questions and more in this first installment of "History At Your Fingertips" at the Matthewis Persen House this season.  Stay tuned for further additions of artifact displays and period clothing throughout the house!
A Perpetual Memory: Artifacts of the Native Americans and Dutch Settlers
In 1665, English Governor Richard Nicolls along with the Esopus sachems (chiefs) signed a treaty to help establish an everlasting peace between the two cultures. The Richard Nicolls Treaty stated that the natives and settlers "engage to come once every year and bring some of their young people…that it may be kept in perpetual memory." In commemorating this document, and to continue the tradition of keeping the treaty in perpetual memory, this exhibit presents artifacts from both the native and European settlers of the area. Many of the Native American artifacts in this exhibit are being shown for the first time in public.
Better Together Exhibit Sampler: Celebrating the City of Kingston's 150th Anniversary
How does a rural farming village become a city? Settled by Europeans in the 1650s, the Village of Kingston (or Wiltwyck, as it was known) was a successful and prominent farming village from its time of settlement to the Revolutionary War. Meanwhile, Rondout was a small agrarian village which functioned mainly as a port of entry to get to Kingston. This exhibit aims to illustrate some of the major changes that took place in both villages from the 1650's up to their merger in 1872.  We hope that this sampling from the larger exhibit gives the viewer a better idea of how and why Kingston became a city, as well as showing some of the benefits that joining together to solve problems collaboratively can have.
Earthday Everyday Eco-Collage Mural
Local photographer and eco workshop facilitator Star Nigro has developed a traveling, mural project with help from the talented youth of Cornell Cooperative Extension of Ulster County's RAPP (Relatives As Parents) 4-H program. The participating artists created the mural concept, and a quote to represent their gift to the community; "No matter our differences, we always have something in common." Earthday Everyday was created using everyday objects and recycled materials. Each artist was given a panel made of recycled pallet wood to decorate in their own style. When placed together, the individual panels create a unified image.  Earthday Everyday won first place at the Ulster County Fair, along with a ribbon for outstanding exhibit at the New York State Fair in Syracuse.
Categories
Tags
https://kingstonhappenings.org/wp-content/uploads/2022/05/2019-Matthewis-Persen-House-Museum-small.jpg
709
1080
anonymous
https://kingstonhappenings.org/wp-content/uploads/2013/10/Final-KH-Logo.png
anonymous
2022-05-10 11:32:41
2022-06-04 10:33:37
Matthewis Persen House Season Long Exhibits