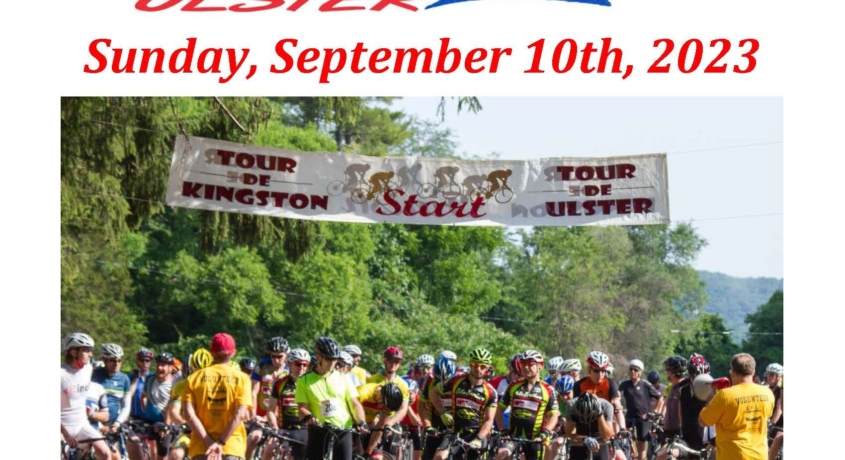 Rides for all abilities along with a Family Friendly ride. Benefits local students and is followed by a BBQ.
Want to know where the Tour de Kingston and Ulster Family Ride goes? What about our famous "Dirty 30" gravel ride?  Log onto the BikeReg website https://www.bikereg.com/tdk23 and you'll be in the know!  You'll also be able to sign up for the ride which features a BBQ lunch and raffle.  What about our 9, 16, 33 and 50 miles rides?  They are all there too!
Start of the Tour De Kingston Family Ride.  Photo by Kevin Godbey, Kingston Happenings
The Tour's Free Family Fun Ride is a flat, five-mile course that starts at 10 a.m. that uses the Kingston Greenline Trail through Uptown and Midtown Kingston. Riders are escorted by volunteer Ride Marshals and the Kingston Police Department. "And we make a rest stop at the Fireman's Museum, which is a big hit with the kids," Polk said. Riders will also visit the YMCA for a water break.
The car-free Trail Rides start at 9:30 a.m. For beginning riders, the 9-mile route will use the newly paved trail between Kingston and Hurley and connect to the Hurley Rail Trail before returning on the same route.  The 16 mile ride goes further and tackles the unpaved section of the Hurley trail before coming back along the trail. These rides are led by experienced bicyclists.
Starting at 9 a.m. are new routes for our road rides for intermediate and experienced riders.  Choose from 33 or 50 mile routes – both of which feature the beautiful Ashokan Reservoir.  These are self-guided routes.
The mostly off-road "Dirty 30" Gravel Grinder Ride, suitable only for the most experienced riders, will start at 8:30 a.m. The route features dirt roads, rail trails and some pavement riding with challenging terrain.
The Tour de Kingston and Ulster, presented by O'Connor and Partners PLLC, starts and finishes at the Forsyth Park Pavilion in historic Uptown Kingston. Register online at https://www.bikereg.com/tdk23 Discount registration, available through September 9th, is $50 for adults and $10 for youth under age 18. On the day of the ride, registration is $60 for adults but remains $10 for youth. The five-mile Family Fun Ride is free of charge, but registration is suggested.
Proceeds from the Tour support community bike repair, safety education for youth and the Tour De Kingston Community Scholarships.  "Our scholarships are open to anyone seeking to further their education with a commitment to serve the residents of Ulster County," according to Tom Polk, Ride Director.  Applications are available by contacting Polk at the YMCA tpolk@ymcaulster.org
Event registration fees include pre-ride refreshments, the Bike Brothers Burger BBQ, raffle ticket, route map, and rest stops with food and water.  Riders with any mechanical problems can be picked up by our support vehicle.
About the YMCA of Kingston and Ulster County:
The YMCA of Kingston and Ulster County is an open, interfaith movement that advocates Christian principles through programs that build character, respond to community needs, and help build spirit, mind and body for all.
https://kingstonhappenings.org/wp-content/uploads/2023/09/Flyer-23-1x.jpg
1496
1700
Kingston Happenings
https://blastserve.com/khtestbed/wp-content/uploads/2023/07/KH-Transparent-Logo-e1688304541199.png
Kingston Happenings
2023-09-06 11:28:16
2023-09-11 10:58:03
2023 Tour de Kingston