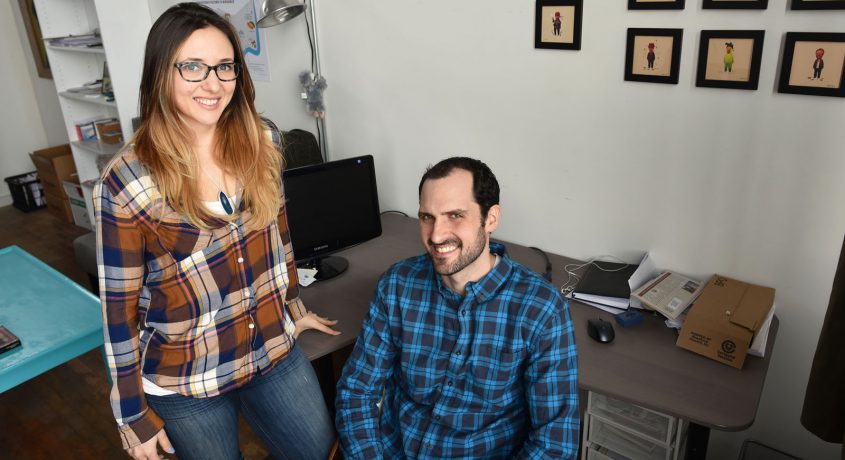 Doers and Dreamers – Gabrielle Green & Alex Panagiotopoulos
A significant part of this area's local economy are companies that provide business services to other businesses to help them meet the challenges of today's extremely competitive environment. Knowing how to build a better mousetrap doesn't necessarily mean that you can get someone else to buy said mousetrap. Hence, there is a need for professionals that understand the ever changing means of promoting businesses and can leverage them to ensure a business's success. Meet this week's Doers and Dreamers whose growing business is all about helping other local businesses to succeed.
Your name: Gabrielle Green & Alex Panagiotopoulos
Business or organization: Kingston Creative, a full-service creative agency that does branding, marketing campaigns, and websites.
Occupation:
Gabby is a designer and developer, and Alex is into social media, search, and writing. We recently hired our first employee, and are planning to grow further in 2017.
What is your approach to your business or occupation that makes you unique?
We love the freedom we have to be who we are and share what we know.
We have a lot of experience completing projects in the mega-corporate world, but we started Kingston Creative to make those insights and best practices accessible for local businesses and organizations… whether it's a concrete company, a tattoo shop, or a political campaign.
The biggest opportunity we see is that great design and storytelling can beat traditional advertising every time. Anyone can benefit from telling fun, authentic stories about themselves online.
Where are you from originally?
Gabby grew up in New Canaan, Connecticut and moved to the Hudson Valley twelve years ago. Alex has always lived in the Hudson Valley (shoutout to Walden).
What brought you to the Kingston area and keeps you in this area?
Other than a month in Brooklyn for Gabby, we both skipped the whole living in the city thing that many millennials go through. Living near mountains and hiking, farms and wineries, art and culture all at once has been undervalued for a long time; now it's what everyone wants. Just because you can make more money closer to the city doesn't mean that life is better down there.
We bought a little house almost three years ago in the Roosevelt Park neighborhood of Kingston and love it.
What is your favorite hangout in this area and why?
There are too many to count, but our secret spot is Oyummy Sushi on Albany Ave. It'll never be featured in And North but it's our go-to.
When you're not in Kingston, what's your idea of a wonderful city to visit, and why?
We've been so busy building our business that we've put traveling on the back burner. We've loved places like Montreal, Philadelphia, and Martha's Vineyard because they all have great transit, food and culture.
Tell us something that we never would have guessed about you.
Tailgating at the Renaissance Faire is our favorite thing to do.
https://kingstonhappenings.org/wp-content/uploads/2017/02/DSC_5869-copy.jpg
901
1600
Kingston Happenings
https://blastserve.com/khtestbed/wp-content/uploads/2023/07/KH-Transparent-Logo-e1688304541199.png
Kingston Happenings
2017-02-14 13:46:53
2017-03-07 11:50:47
Doers and Dreamers – Gabrielle Green & Alex Panagiotopoulos