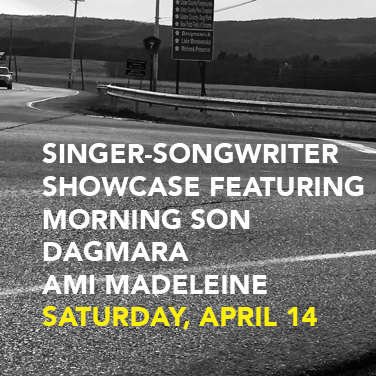 Date/Time
Date(s) - 04/14/2018
8:00 pm-10:00 pm
Location
Green Kill
Singer-songwriter Showcase Featuring, Morning Son, Dagmara and Ami Madeleine
Ami Madeleine hosts The Singer-Songwriter Showcase at Green Kill on Saturday, April 14, 2018 at 8 pm featuring Morning Son,  Dagmara and MC Ami Madeleine. 5 $ at door or reserved on Eventbrite.com. Seating limited to 45. BYOB.  Ozubar refreshments available.
DAGMARA is the project of Phoebe Heretz, a songwriter and performer based in New Paltz, NY. Phoebe is a recent graduate of the Studio Composition program from the music conservatory at SUNY Purchase.
About Morning Son
soundcloud.com/mourning_son
About  Dagmara
Phoebe grew up in the suburbs of Boston on a heavy dose of David Bowie and the Beatles. Later on, at Purchase, she latched onto 60's country and folk, a couple favorites being Roy Orbison and Joni Mitchell. This melting pot of influences come out in her writing, though the arrangements of the songs lean towards alt-folk.
DAGMARA released their debut EP, The Virgin High, in January 2017. The follow-up full-band album, still in the works, was recorded with Travis De Jeong of Salvation Recording Co. in October 2017.
About Ami Madeleine
With mesmerizing vocals and versatile instrumental skills, Ami Madeleine reminds you what it's like to feel something deeply. Whether it's with a guitar, ukulele, or violin, whether the emotion is love or longing or heartbreak, Ami draws it out of you and makes you want to hug a friend or kiss a lover unabashedly.
Her music and lyrics are inspired by the natural landscape and reflect her vital link to the vital elements of earth, fire, air and water. If you're not careful, you'll leave her set in an introspective dreamlike state of ease. Ami currently resides in the town of Rosendale, NY and just released her third album "Death Bed".
About Green Kill
Green Kill is an art and performance space now in its second year, located in the heart of the Hudson Valley.
Green Kill located at 229 Green Kill Avenue in Kingston at four corners where Green Kill Avenue intersects Route 32 as it winds around through the trees down to New Paltz.
Green Kill hosts poetry readings, theater, film, music and art exhibitions, which include established, outsider or student artists and performers who are dedicated to the growth of their work.
The art exhibitions change monthly at Green Kill and include local, national and international artists.
The Green Kill web site is greenkill.org; the email is 229greenkill@greenkill.org; and the phone is 347-689-2323. 
Green Kill is open from Tuesday to Saturday from 3 pm to 9 pm, and closed on national holidays.
Categories
http://kingstonhappenings.org/wp-content/uploads/2018/04/showcaseaprilsq.jpg
376
376
anonymous
http://kingstonhappenings.org/wp-content/uploads/2015/07/Final-KH-Logo-300x107.png
anonymous
2018-04-09 18:51:55
2018-04-09 18:51:55
Singer-songwriter Showcase Featuring, Morning Son, Dagmara and Ami Madeleine