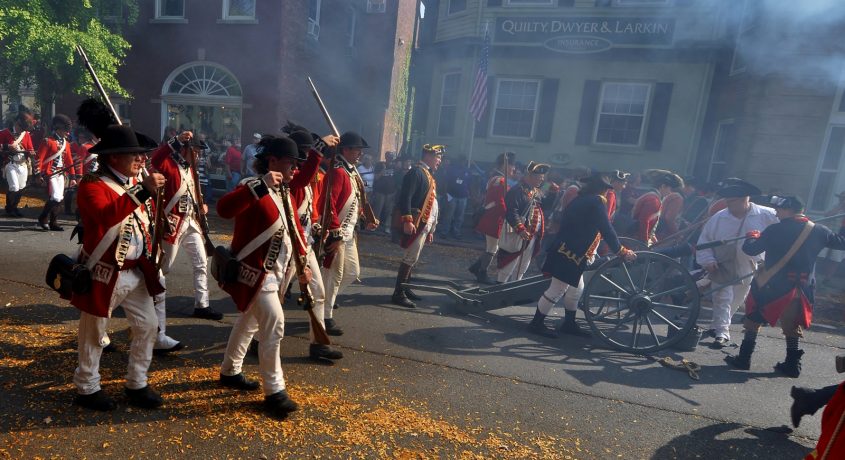 Date/Time
Date(s) - 10/13/2017 - 10/15/2017
All Day
Location
Kingston, NY
The Burning of Kingston is a weekend-long celebration that draws thousands of visitors to Kingston New York. It is a unique story in American history commemorating bravery, sacrifice, resilience and renewal. On a Fall October day in 1777, British troops set fire to the newly established capital of the State of New York – Kingston. Since most of the local militia were fighting battles
elsewhere (such as at the Battle of Saratoga), the vulnerable city burned down with over 300 buildings lost in just hours. Since many of the buildings were made of stone, we can still see examples of them standing today. The event was a dramatic moment in the American Revolutionary War that hardened the determination of colonists to gain their independence, and for local citizens to rebuild Kingston, stronger than ever.
The Burning of Kingston is a biennial event celebrating its 20th anniversary of the reenactments and 240th anniversary of actual events.
Schedule of events
Friday Evening, October 13th
5:30pm
The Story of the Burning of Kingston
At the Vanderlyn Gallery of the Senate House Museum
Presentation and lecture on the events leading up to the Burning of Kingston, life as a local Kingston colonist at the time, and the events that occurred that day and its aftermath. Presentation by Hank Yost of the First Ulster Militia, with introductions by Geoff Miller, Ulster County Historian.
6:30
Procession of Lights
Following the presentation at the Senate House, participants will walk with lights (provided) from the Senate House across the historic Stockade neighborhood to the Persen House for the first Burning of Kingston re-enactment – the Committee of Safety.
7:00pm
The GREAT DEBATE by Colonial Kingston Committee of Safety
Located at the historic Persen House Museum at the historic "four corners" in the Stockade District.
Highlights: town residents hear news of Burgoyne's defeat at Saratoga, express fears of British invasion and then learn that a British fleet lies off the Hudson River at Kingston Point.
7:45pm
Old Dutch Church Cemetery Candlelight Tales
Come hear the true story of the Burning of Kingston as the long-dead rise up to provide first-hand accounts of that dreadful ordeal.
---
Saturday Morning, October 14th
10am – 4pm
Old Dutch Church Sanctuary and Museum
Organ music throughout the day
10:30am – 5pm
Historic Henry Sleight House (Wiltwych Chapter, DAR) open to public for tours.
The Henry Sleight House, a beautiful example of Dutch Colonial and English Colonial building styles, was built prior to 1695 on a triangular lot within the stockade district. Burned by the British, along with the rest of the Stockade, the house was later rebuilt and occupied by Village President Hendricus (Henry) Sleight. For more info on building https://www.nps.gov/nr/travel/kingston/k8.htm
10:30am
"Revolutionary Express" Trolley Ride
Take a ride back in time on the trolley from Kingston's historic Rondout district out to Kingston Point Park where you can watch at close-range and comfort the landing of the redcoats off the Hudson River and then battle with colonial militia. ($5/pp – pick up at 10:30 sharp at end of Broadway, includes return trip by 12noon) www.tmny.org
BRITISH LANDING BEGINS
11:00am
British invasion reenactment begins with "landing" at Kingston
Point Park along the Hudson River (NOTE: not Kingston Point Beach), greeted by small resistance force of Colonists. (Parking available at park)
11 – 5
Hudson River Maritime Museum
Visit the Hudson River Maritime Museum to learn about the strategic naval importance of the Hudson River during the American Revolution, and learn to play "Nine Men's Morris", a game popular in the 18th century. From 11:30 am to 2 pm. Museum open Fri-Sat and Sun from 11am – 5pm www.hrmm.org
Saturday Afternoon, October 14th
BUCKET BRIGADE CONTEST AND MUSEUM EXHIBIT
1pm
Test your meddle at an 18th century style bucket-brigade contest! Anyone can enter to win. Located at the Kingston Volunteer Fireman's Museum, 266 Fair Street.
STORMING OF KINGSTON STOCKADE DISTRICT 2:45
At Senate House, American colonists flee with key possessions including important county and new state capital records.
2:50
British troops arrive at Senate House, replace Colonists flag with British flag, 'dispatch' colonial resisters, and prepare march through Stockade District.
3pm
British troops will advance up Fair Street and turn at Main Street in the Stockade District, attacked by remnants of the local Militia, with street reenactments along the way. Red coats will march down Main Street to Green Street and then Crown Street, and arrive at the historic 4 corners of Kingston for final street battle scene (John & Crown Streets).
3:45
Following afternoon's fighting, the Redcoats will hold a victor's ceremony and dispatch with Mayor of Kingston.
6:30 – 8pm
Reenactor camps open to public viewing with impromptu lectures on the Revolution (Rebellion) at Forsyth Park.
COLONIAL GRAND BALL >7pm
The Grand Ball, with live music located in the Common Council Chambers of the historic Kingston City Hall, is a fun time to come dressed in 18th century attire (or not!) and dance to the real-oldies! Live music from the 1770s is fun for all ages! Free dance lessons provided starting at 7pm, followed by the ball.
Bus shuttle will begin running from Forsyth Park to City Hall (with stops along the way) starting at 6:15 and running continuously for the evening. Last shuttle from City Hall leaves at 11:30pm
Sunday, October 15th
MILITIA AND REDCOAT CAMPS OPEN TO PUBLIC
9am-12:30pm
At Forsyth Park, reenactor camps will open to the public for viewing, and include safety inspections, company drills, and demonstrations.
11am (sharp)
MILITARY CAMP TOUR AND DRILL DEMONSTRATIONS
The only scheduled tour of the camps, along with opportunities for visitors to test their abilities with 18th century drills and camp life.
BATTLE OF UPPER FORSYTH PARK
12:30pm
A live action tactical demonstration showing how American and British troops battled in 1777. Location – Forsyth Park.
Categories
http://kingstonhappenings.org/wp-content/uploads/2017/09/2013-10-05-14-15-11-0047_edited-1x.jpg
899
1600
Kevin Godbey
http://kingstonhappenings.org/wp-content/uploads/2015/07/Final-KH-Logo-300x107.png
Kevin Godbey
2017-09-10 08:27:33
2017-10-15 07:47:58
Burning of Kingston